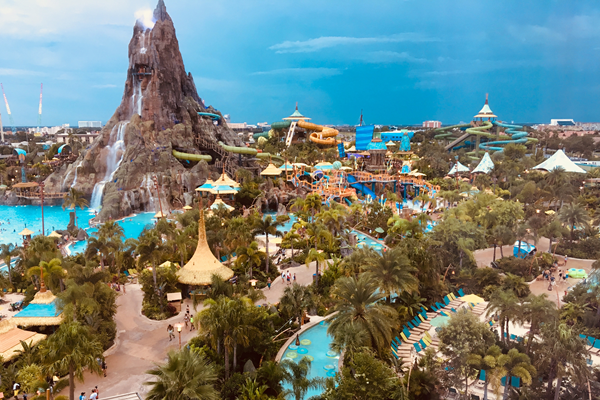 Our two-week summer 2019 holiday started with a one-week stay at Universal Studios Orlando, followed by a one-week stay in Walt Disney World. [read more about our Disney World trip]
We visited Universal Studios Hollywood on a road trip through California many years earlier. However, Universal Studios in Orlando was our first-time visit and we loved it!!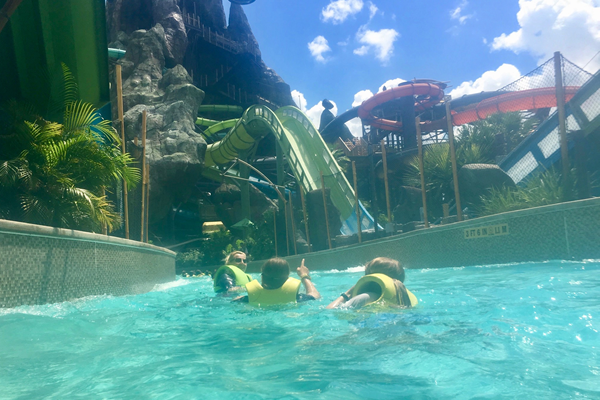 Volcano Bay Water Park
We loved the idea of being near the Volcano Bay waterpark and therefore choose the closest option, Universal's Cabana Bay Beach Resort with a room with Volcano Bay Views. The views could not have been any better.
Universal's Cabana Bay Beach Resort is an amazing resort with an in-house Starbucks®, food court, bowling alley, pools with a lazy river, and shops.
Every day we visited the Hawaii-themed Volcano Bay, often after a day of visiting the two Universal parks. One day, we rented a private cabana which was absolutely the best. 
Our most thrilling ride in Volcano Bay is TeAwa The Fearless River™️.
A crazy river attraction with some very fast-moving parts. 
Another fun thing to do. Head to the giant pool at The Volcano at Waturi Beach. There, from time to time, the volcano will erupt. People start clapping until the moment the Volcano erupts and giant waves join the fun.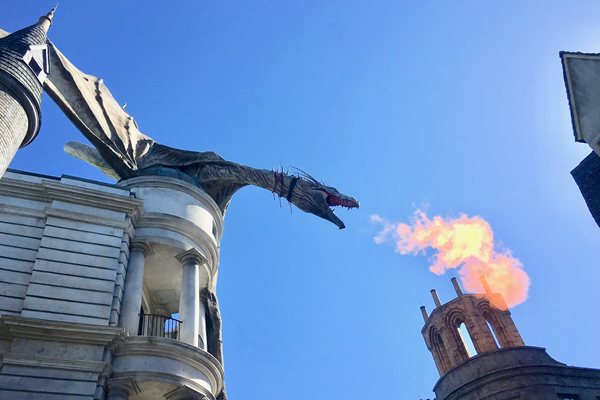 Universal Studios Orlando
With the 5-day Universal Hopper Pass, we had access to Universal Studios Florida, Islands of Adventure, and the water theme park Volcano Bay.
Hit the Parks Earlier
Thanks to our stay in a Universal resort, we could enter the parks earlier than the regular opening hours. And this was much needed because of the huge crowds, all thinking of going to the same attractions.
Luckily, a new ride –Hagrid's Magical Creatures Motorbike Adventure™ –launched that month which made it possible for us to be first in line on the other Harry Potter rides. 
Our Most Thrilling Rides
Harry Potter and the Forbidden Journey in Islands of Adventure
I almost chickened out when I came closer to the attraction but finally found the courage to go and this was so thrilling. In fact, it's my #1 ride in Universal.
Harry Potter and the Escape from Gringotts in Universal Studios. A thrilling ride and not to be missed!
Jurassic Park River Adventure – the drop is higher than Flash Mountain in Disney World!
Fast and the Furious – Supercharged™️. A wild car ride that will leave you pumped with adrenaline.
The Hogwarts Express train from London to Hogsmead. 
Popeye & Bluto – getting soaking wet, didn't expect to get this wet
TIP: buy upfront the Coca-Cola Freestyler Cup for unlimited soda and water throughout the Universal parks.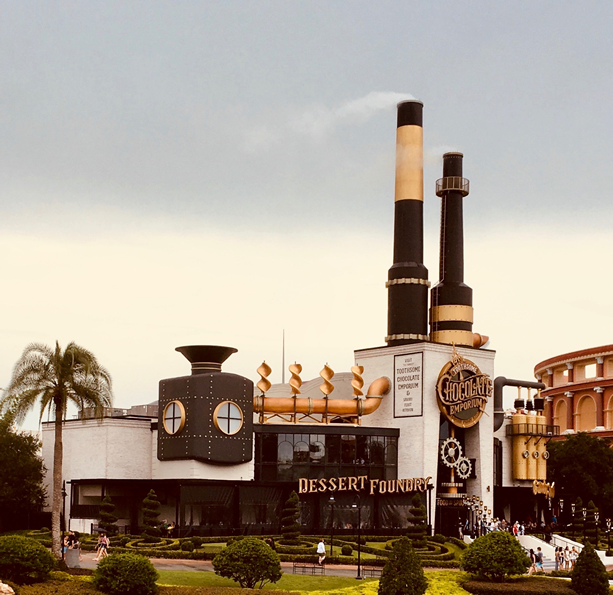 Universal for Foodies
Between the two parks lies CityWalk, your destination for everything shopping and restaurants.
Here are our highlights of dining options in CityWalk
1. The Toothsome Chocolate Emporium & Savory Feast Kitchen
This Steampunk haven is an enchanting eatery and a fantastic feast for the eyes and the stomach. 
2. Vivo, an Italian restaurant. Great Italian food!
3. Hard Rock Cafe® – even though very loud, we left with a big smile. Loved the sing-a-long to YMCA and the fun and positive staff.
Other great stops for a snack are Voodoo Doughnut and Cinnabon.