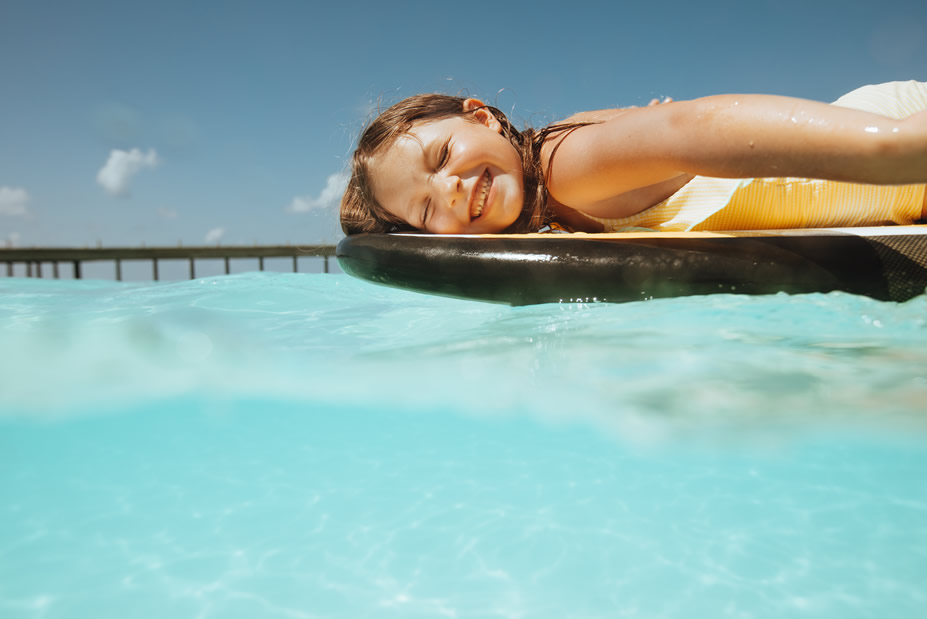 Are you looking for an off-the-grid family vacation? Then discover the all-new and iconic JOALI BEING. This stunning ultra luxury resort resides on Bodufushi Island in the Maldives.
JOALI BEING welcomes kids from the age of six – 12 years old for the first time with a special Joy of BEING program for children this summer on a weekly basis throughout the months of June, July, and August 2022.
The Joy of BEING includes
Minimum stay of 3 nights during the summer months
Combinable with JOALI Repeater Discount (applicable for stays until 31.12.2022) 
The Joy of BEING program for children * costs $150 (subject to taxes) per night per child per stay aged 6 to 12 years old, in addition to usual villa rates and a full-board basis.
Starting from $ 1,499 per night during the summer vacation.  
GET A NON-BINDING PRICE QUOTE
directly from our Luxury Travel Consultant at 360 Private Travel

choose your travel dates to receive rates for your next Maldives family vacation at the ultra luxury resort JOALI BEING

About Sophibee's Luxury Travel Agency

Thanks to 360 Private Travel's membership of Virtuoso and over 15 luxury hotel brand programs, you'll enjoy the best rates, upgrades, and value-added VIP amenities at the world's top hotels and spas.

Sophibee is an independent agent for 360 Private Travel. All flights and flight-inclusive holidays on this website are financially protected by the ATOL scheme.
The Joy of BEING Kids Programme 


This weekly seven-day program has been designed around JOALI BEING's Four Pillars of Mind, Skin, Microbiome, and Energy with age-appropriate activities that have been specially designed by JOALI BEING's expert team of naturopaths, therapists, movement experts, and nutritionists.
Activity examples include:

Physical Wellbeing for Energy and Mind Pillars
Jungle Yoga and Active Meditation and Morning Energy Dance – each day will begin with either a soulful introduction to the practice of mindfulness and meditation. Parents are welcome to participate each morning.
Nature Scavenger Hunt – an energy-filled competition that also exercises the mind, exploring JOALI BEING's nature-filled island, including its Discovery Sound Path; Turtle-Treehouse; and Turtle Sanctuary
Anti-Gravity Super Yoga – a unique and fun-filled exercise that improves coordination, strength, flexibility, fitness, and confidence
Tennis Camp and Football Tournaments – popular team sports for all led by JOALI BEING's expert in-house coaches
Beach Bootcamp, Pilates, and Dance Class – optimize energy flow and get active outdoors with a range of fun movement sessions
'Ninja' Martial Arts class – practice a series of movements and exercises based on ancient science and traditions of martial art in a recreational, fun environment
From a soulful introduction to mindfulness and meditation to an anti-gravity super yoga class for kids, have it all at this ultra luxury resort.  
Culinary Arts for healthy Microbiome
A MasterChef style cooking class – learn how to cook healthy meals using common ingredients that can be found at home
Fuel For Your Body nutritional lesson – led by JOALI BEING's Nutritionists, learn the importance of nutrients and what food these can be found in at home
Smoothie and "nice-cream" making classes – easy to replicate at home, learn how to make popular smoothie recipes as well as sugar-free ice cream with natural ingredients
Kombucha and Iced Tea tasting classes – located at JOALI BEING's tea lounge, learn how the island makes its own 100% organic Kombucha, whilst learning all about its health benefits, helping to heal children's microbiome. In the Iced Tea Tasting class, children can learn about JOALI BEING's wide selection of over 65 organic teas from around the world, many of which are proven to help with all four pillars, in particular, the microbiome and the mind.
Marine Biology for Mind and Energy
Snorkeling lessons – head out with one of JOALI BEING's expert Marine Biologists on a snorkeling trip in search of turtles, whilst learning about the island's coral reef.
Dolphin Cruise – set sail in search of Raa Atoll's many dolphin-family visitors and learn fun facts about these friendly marine mammals
Sea Gardeners – practice sea-gardening skills while helping JOALI BEING's Marine Biology team to plant coral onto spider-like structures that will then be planted onto the existing house reef, helping it to flourish
Marine Biology lessons – aimed at younger children, learn about the Maldives' marine life and how we can help to protect it during an interactive and engaging group gathering. In partnership with the Olive Ridley Project, JOALI BEING has created a sea turtle rescue and rehabilitation center with a resident Sea Turtle Biologist and Educator. JOALI BEING also offers an adoption program, which allows anyone to adopt the turtles within the rescue center, or those sighted in the wild.
Semi-Submarine adventure – explore JOALI BEING's beautiful house reef with its abundance of marine life and corals like never before
Ghost Net Bracelet workshop – an educational arts and crafts class using disused ghost netting. Learn about the usage of ghost nets in the Indian Ocean and how it is problematic for marine life
About this Ultra Luxury Resort | JOALI BEING
JOALI BEING invites well-being seekers to reconnect with themselves and with the beauty of nature.
Based on the belief that understanding is the key to creating and sustaining well-being, the island's Learning Centre offers a series of educational workshops and experiential classes with well-being experts, culinary maestros, and herbalists.
This distinctive ultra luxury resort and well-being retreat is home to:
a total of 68 exclusive guest villas with pools, consisting of 33 beach villas and 35 water villas
With eleven categories to choose from, guests can opt for one-, two-, three- or four-bedroom accommodations