---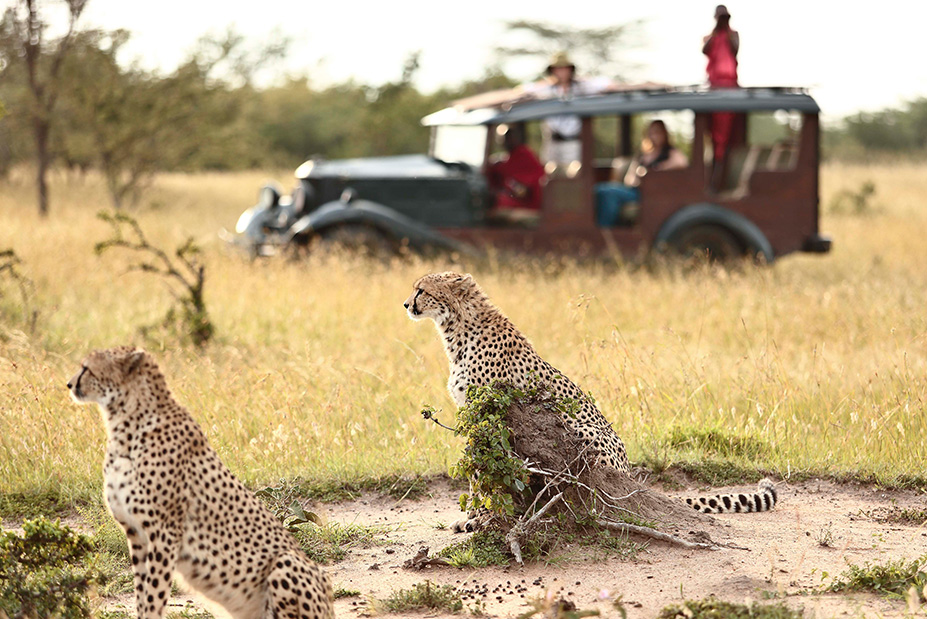 9 Days from $ 13,500 per person
what's included?
---
LUXURY LODGE ACCOMMODATIONS

Lengishu House – Borana, 3 nights
Cottar's Private Bush Villa – Maasai Mara, 3 nights
Alfajiri Garden Villa- Diani Beach, 2 nights

Exclusive use of full board accommodation, soft drinks, beer, house wines, and selected spirits, park and conservancy fees
ACTIVITIES

Safari activities including day and night game drives, bush breakfasts, bush meals, and sundowners

Tracking black and white rhino on foot, mountain biking, behind-the-scenes conservation activities, and one horse riding excursion at Lengishu

Running with a Maasai warrior, Maasari warrior school, Maasai singing and dancing, sustainability tour, and conservation and community tour at Cottar's Bush Villa

Coastal activities including ngalawa (Swahili boat) coral reef and snorkelling excursions, one daily massage per adult/teenager, cultural community visits, use of the gym at a nearby property at Alfajiri Garden Villa
Scheduled flights and domestic flight departure tax
Meet and assist at JKIA, airport/airstrip transfers
AMREF Flying Doctors Membership
Laundry and all statutory taxes

This itinerary excludes international flights. We would be happy to book your flights from your departure airport.

GET A NON-BINDING PRICE QUOTE
directly from our Luxury Travel Consultant at 360 Private Travel

choose your travel dates to receive rates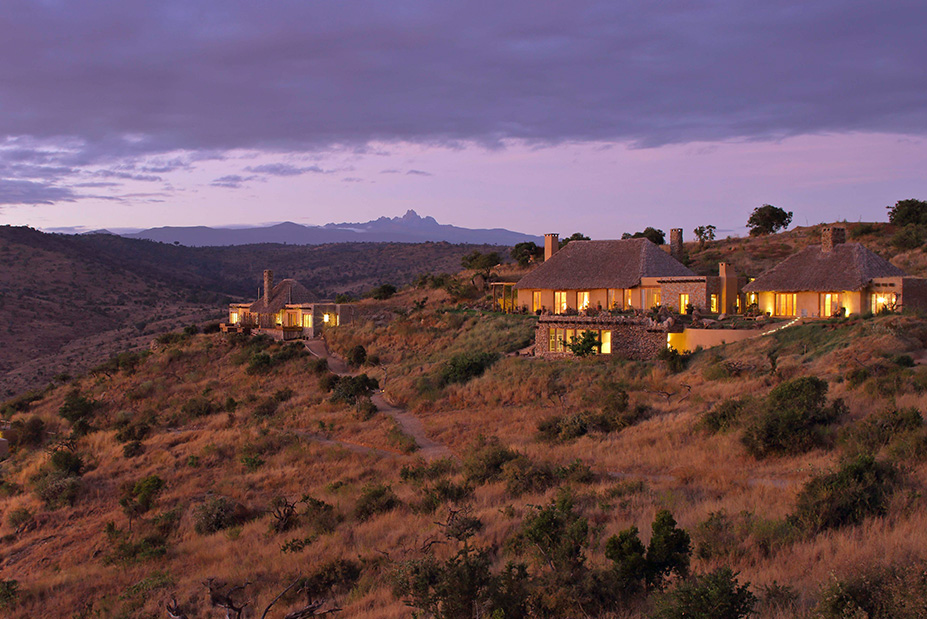 A 9 Days Family Affair in Kenya
3 Destinations 9 Remarkable Days
We are here to design your unforgettable safari with your family.
We can tailor-make every part of your trip to fit your style, budget, and time constraints.
Experience three privately owned properties, while covering three very different, but renowned ecosystems.
Encounter the tribal inhabitants of the areas, whose authentic, traditional, and colorful tribal ways remain relatively untouched.
On Borana Conservancy, enjoy uninterrupted game viewing and discover how poachers are kept at bay by the Anti-poaching Team.
At Olderkesi Conservancy, learn from the renowned guide, Calvin Cottar, about the intricacies of the Mara ecosystem and the wildlife and people found therein.
Considered the best beach in Kenya, Diani offers all of the activities of a beach visit in the seclusion of a lavish, opulent private villa.
BORANA | DAY 1 – 4

Upon arrival in Nairobi, you'll fly to Borana where Lengishu House awaits your family.

Lengishu House features six beautifully appointed bedrooms within four cottages, which are situated apart from the main house. All rooms face east over the valley below, offering spectacular sunrise views. There is also a spectacular infinity pool.

Borana Conservancy is home to the Big Five, along with an abundance of other species of African wildlife. Here, you'll have the freedom to choose your own itinerary and are not bound by the constraints of other safari lodges.

Activities are in abundance and fully flexible, including private game drives both on land and by air, mountain biking and horse riding through the conservancy, as well as the rare opportunity to help with the conservation efforts by helping to track rhinos on foot.

Whilst you are encouraged to explore the many great safari adventures in the conservancy, Lengishu has a wide range of facilities to enjoy when you simply wish to relax and unwind at home. With a gym, billiards table, infinity pool, studio and pétanque pitch, and the wonderful in-house masseuse, Lengishu is a peaceful refuge from everyday life.


Overnight at Lengishu House, 3 nights
MASAI MARA | DAY 4 – 7

You'll fly to Masai Mara, where your family is welcomed at Cottar's Private Bush Villa.

A contemporary, elegant private villa; the only luxury private villa in the Masai Mara, Kenya. Cottar's Bush Villa won the World Travel Award for Africa's Leading Luxury Private Villa in 2016 and is one of only eleven Global Ecosphere Retreats in the world.

The Mara conservancies are Maasai-owned group ranches that have combined to conserve a total area nearly the size of the Maasai Mara National Reserve itself, covering 1450 km2 (560 mi2) across fifteen conservancies.

The wildlife in the conservancies can be comparable to the main Maasai Mara game reserve, and in fact, some areas have higher densities of predators than in the central reserve. Because there are fewer camps, the conservancies can offer a more exclusive experience than in the central reserve, with generally fewer game viewing vehicles around sightings


Overnight at Cottar's Private Bush Villa, 3 nights
UKUNDA, DIANI BEACH | DAY 7 – 9

You'll fly to Ukunda, Diani, where the staff at Alfajiri Garden Villa await your family.

Alfajiri Garden Villa overlooks the Indian Ocean. The elevated position ensures privacy and stunning views of Diani Beach, considered one of the best in Kenya.

The private villa features a large lushly landscaped veranda and a private infinity edge swimming pool with unforgettable views of the Indian Ocean's changing tides. Your family will enjoy the rolling lawn that flows from the pool and terrace down to an intimate beach. The large main veranda under a massive makuti roof, okra floor, wooden beams, and impressive artifacts all reflect the outstanding attention to detail and interior design.

Many consider Diani Beach, and its extension Galu Beach, to be not only one of the most beautiful beaches in Africa but likely in the world.

It is about 17 km (10 mi) long, from the Kongo River in the north to Galu Beach in the south (the southern point of reference is an old Baobab tree). The coast's white sand and warm clear turquoise waters are protected by the continuous coral reef, making for very good fishing and snorkelling. Diani is a popular spot for kitesurfing and sky diving and is not far from the Shimba Hills National Reserve, which looks out over the Indian Ocean.

Overnight at Alfajiri Garden Villa, 2 nights
DAY 10

You'll fly to Nairobi, with a transfer to Jomo Kenyatta International Airport. Safe travels home!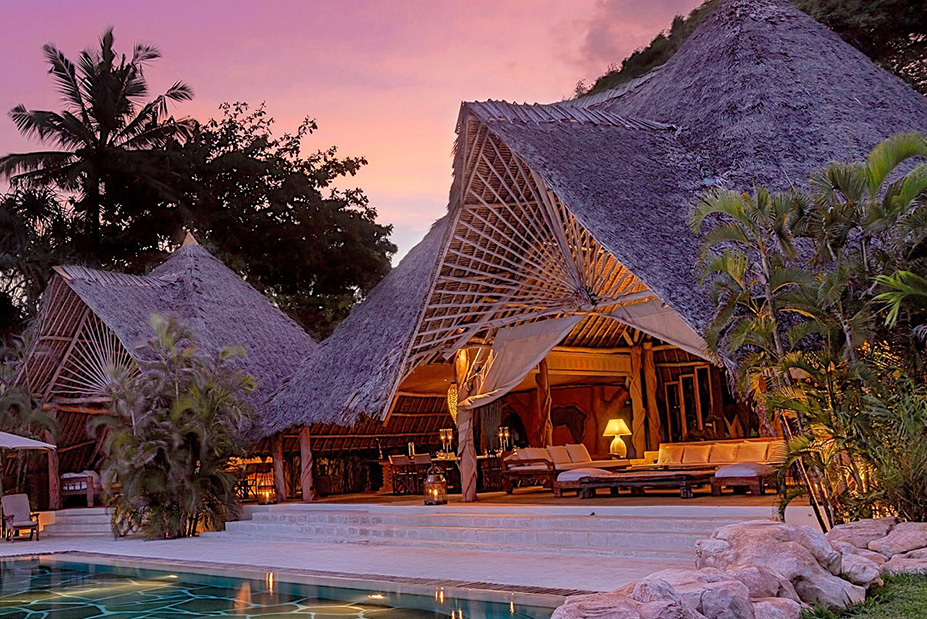 Safari activities include day and night game drives, bush breakfasts, bush meals, and sundowners
Exclusive use of safari vehicle along with private guide at Lengishu and Cottar's Bush Villa
Tracking black and white rhino on foot, mountain biking, behind-the-scenes conservation activities, and one horse riding excursion at Lengishu
Running with a Maasai warrior, Maasai warrior school, Maasai singing and dancing, sustainability tour, and conservation and community tour at Cottar's Bush Villa
Coastal activities include Swahili boat coral reef and snorkeling excursions, one daily massage per adult/teenager, cultural community visits, use of the gym at a nearby property at Alfajiri Garden Villa