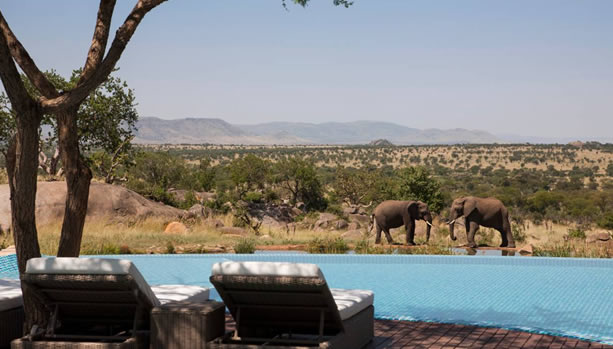 The Big Five Family Safari Package
Share five – or more! – fun-filled days with those most special to you during a magical family safari vacation.
With a day-by-day itinerary helping families discover the very best of the Serengeti, children will learn about the "big five" – the lion, leopard, buffalo, elephant and rhinoceros – during carefully designed, fun and engaging activities.
Rise over the Serengeti Plains at sunrise for a spectacular hot-air balloon safari, discover the secrets of local cuisine with a family cooking class, and gaze out at passing wildlife from your room, suite or villa. Our Kijana Klub and Discovery Centre will even provide relaxed hangouts for children's downtime at the Lodge, and return transfers from Seronera Airstrip are also included. As always, all meals and beverages at the Lodge are included in your rate.
Three meals per day and beverages, including house wines, local beer and well spirits
Round-trip transfers between Seronera Airstrip and the Safari Lodge
Hot-air balloon safari*
Two half-day game drives
Family cooking class
Laundry credit
Standard Internet access
*The hot-air balloon safari is available to children aged seven and over. Please contact our reservations team for alternative activity options for younger children.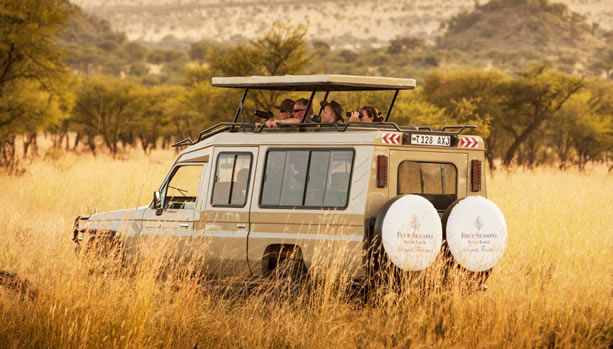 Our Kijana Klub (kijana means "youth" in Swahili) offers younger guests a fun and safe way to enjoy their time in the African bush. Located in a dedicated area of the Lodge's the main building, the Kijana Klub has an arts and crafts space, a foosball table, a selection of board games, and a separate area with video games (Wii and Xbox 360), a PC computer, a selection of DVDs, and a small library.
Working closely with the Lodge's Discovery Centre, our complimentary Kid's For All Seasons Program aims to educate our younger guests about Africa – its wildlife and different cultures – with activities designed to take advantage of the Serengeti's natural environment. Youngsters can spend the morning with a Maasai warrior or learn how to study animals from a wildlife expert, while teenagers can learn and interact at the Discovery Centre, helping to contribute to ongoing wildlife research projects and interacting with educational resources to enhance their safari knowledge.
Serengeti Passport
All kids staying at the Lodge are given a Serengeti Passport to help them keep track of and encourage them to learn more about, all the animals they spot during their stay.
Movie Nights
The Kijana Klub also offers Kids' Movie Nights. Kids can enjoy a movie and dinner while being supervised by one of our Kijana Klub attendants. A limited babysitting service is also available for an additional charge.
Maasai for the Morning
Spend the morning with a Maasai Warrior who will pass on some of his bush skills and traditions, such as how to make fire, how to make a toothbrush from a tree and how the Masai use plants as medicine. You can also do some Masai beading and enjoy some African storytelling.
Kids' Nature Discovery Safari
Learn more about conservation and how wildlife researchers study animals; kids can use technology to contribute first-hand to conservation projects and set up their own remote camera traps around the Lodge.
Cooking Class for Little Chefs
Kids can go behind the scenes with a private chef for a cooking class to bake and cut out cookies in the shape of their favourite animals.
Kids' Yoga
While parents are enjoying a relaxing spa treatment, kids may discover some simple yoga postures in a fun and engaging session. Benefiting both the mind and body, the ancient art of yoga can help children develop in sports, at home and at school.
Kids for all Seasons Program
Sample Activities
Let the Kijana Klub keep your children entertained during their stay with games, educational activities and movie nights. Our Kid's For All Seasons program aims to provide a fun and safe environment for our younger guests, encouraging them to experience Africa by exploring and discovering through interactive activities. Children are free to join in as and when they like, from an hour at a time to all day every day.
Kids can take part in the following complimentary activities:
Setting up remote camera traps around the Lodge

Nature walks along the Lodge's walkways

Fun sessions with local Maasai on culture and tradition

African storytelling

Arts and crafts, including Maasai beading workshops

Swahili language lessons

Discovery Centre exploration

Playing video and board games

Movie nights

Cooking classes (cookie decorating and make-your-own pizza)

Swimming

Scavenger hunts

Tree planting
Program Details
Age Group 2 -17 years (adult supervision required for those under 4 years)
Time of Year: Year-round
Every Day 10.00 am – 6 pmHOURS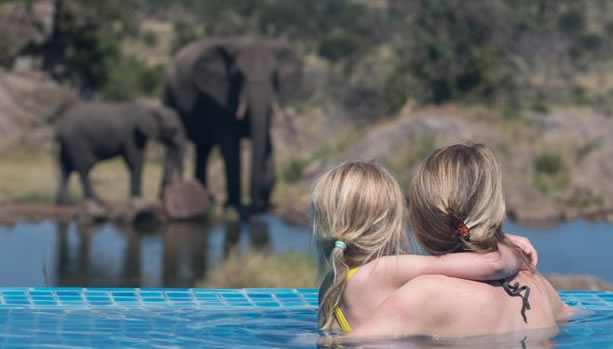 Deep within Africa's finest game reserve, our Safari Lodge welcomes you to a sanctuary of Four Seasons comfort. Get up close and intimate with lions, leopards and elephants – yet always feel safe and pampered.
All-inclusive food and beverage offerings
Unique dining experiences
Infinity pool overlooking the Serengeti
Personalized excursions and guided activities
Educational Discovery Centre
A variety of room types, including suites and private villas
Complimentary standard Wi-Fi
Fitness Centre & Spa
Complimentary Kid's Club